Hydrotreated Vegetable Oil (HVO)
Meet your company's Net Zero targets with the help of Hydrotreated Vegetable Oil (HVO fuel), our fully renewable diesel that cuts net CO2 emissions by approximately 90% without the need for engine modifications.
What is HVO fuel?
If your business relies on diesel or gas oil, you may be looking for cleaner alternatives to fuel your operations without compromising performance. HVO fuel provides an instant opportunity to cut your environmental impact, particularly in large commercial fleets that can't currently switch to other alternatives like electrification. 
As a paraffinic renewable diesel fuel, it meets EN 15940 standards and Fuel Quality Directive 2009/30/EC Annex II. This means that it can be used as a direct, drop-in replacement for regular diesel in a large range of applications, including on and off-road commercial fleets.
To find out more about HVO fuel, get in touch with our fuel experts on 0333 200 0209.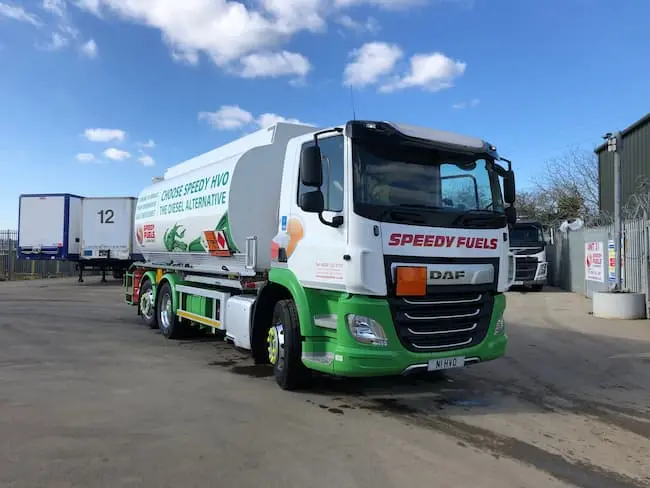 We're driving down emissions
In addition to helping our customers on their journey to Net Zero, we're taking significant steps to reduce our own carbon footprint too. In 2021, we switched the entire Speedy Fuels delivery fleet to run on HVO fuel, saving around 3000 tonnes of CO2 each year.
Why not join us? Get in touch to find out more…
How is HVO fuel made?
HVO fuel is produced using a highly controlled hydrogenation and isomerisation process which removes any impurities from the fuel. This leaves a consistent, high-quality, paraffinic fuel which performs in the same way as diesel but with far superior storage and clean burn properties.
HVO is synthesised from fully renewable and sustainable waste materials which are audited and checked to ensure the integrity of the product. Plus, Speedy Fuels' product is verified at import, and through the Renewable Fuels Assurance Scheme (RFAS), we can provide a clear breakdown of the derivation of raw material collection through to delivery, ensuring no presence of palm oil.
Who can use HVO fuel?
HVO fuel can be used in a wide range of vehicles, applications and industries, including:
Construction equipment
Fleet vehicles
Manufacturing machinery
Critical power generators
Agricultural machinery and vehicles
Industrial tankers
Commercial boilers and burners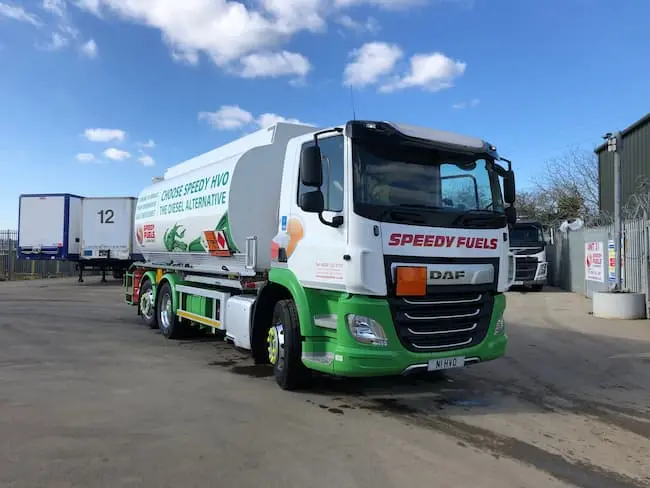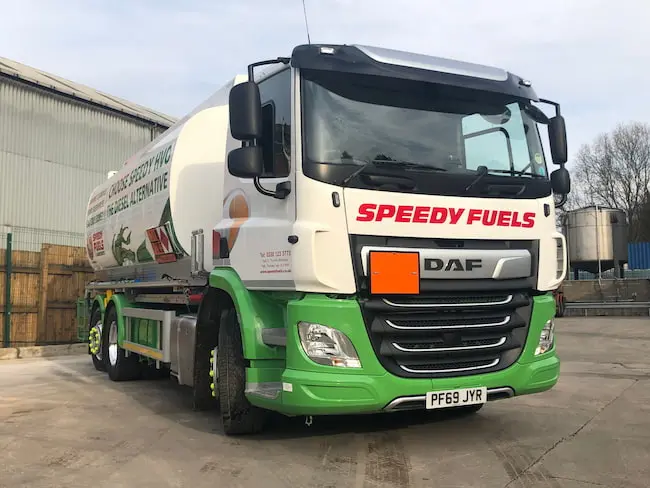 Benefits of switching to HVO fuel
Cuts net CO2 emissions by <90%
Fully renewable, sustainable and biodegradable
Cuts particulate matter (PM) and nitrogen oxide (NOx) emissions
Direct replacement for diesel and gas oil
Wide range of OEM approvals
Fantastic cold weather performance
Improved safety, handling and storage properties
Reduced need for regular fuel testing (FAME-free)
Looking to find out more about HVO fuel?
Our team of in-house experts offer free advice and support with your clean energy transition. As one of the UK's largest and most trusted fuel distributors, we can provide full continuity of supply across the UK with vast holding capacity. Call our experts today on 0333 200 0209.
Our CSR and ESG framework
As part of our business operations, we've adopted the ESG framework to ensure that we're building a sustainable business for our customers, our employees and our local communities.